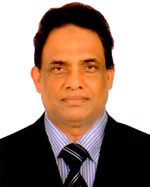 With great pleasure I inform parents and guardians, that Holy Family Red Crescent Medical College has completed nineteen years of academic performances. The foundation stone of the college was laid by the Honorable Prime Minister Sheikh Hasina in the year 2000. It has fulfilled its motto by establishing itself as a student and curriculum driven institution.
The college has been successful in producing doctors who are professionally competent, excellent in ethical values and practice, cognizant of community health needs, research oriented, well versed in IT and latest health technologies, capable of meeting the global health challenges and are able to place themselves at national and international levels in a highly competitive environment. This institution offers undergraduate programmes of MBBS & BDS and also post graduate programmes of various disciplines.
This college is run by Bangladesh Red Crescent Society which maintains the universal principles of Neutrality, Impartiality, Independence, Universality, Humanity, Unity and Voluntary services. It prides me to say that it is no more a national institution but rather an international college where students from six different nations are enrolled. It is an honor and privilege to be the Principal of Holy Family Red Crescent Medical College.
To achieve the goals we had set, we have a host of resources and facilities within the framework of Bangladesh Medical & Dental Council. We opted for the latest modes of teaching and assessment methods, devised a human development system based curriculum focused on personal, professional and ethical development. We have hunted for the best teaching faculties who are trained at home and abroad including a dedicated supporting staff.
I am also happy to inform you that the college has a committed and diligent team of clinical coordinators to run the academic programme as per schedule. Regular internal assessments and correlation seminars, and symposium are conducted. The CME programs have contributed to make sure that we have an up to date knowledge base and the sharing of experiences.

The college is unique among institutions in the country and we offer you a magnificent purpose- built campus located at the heart of Dhaka city, spread over an area of 8.5 acres of land, close to Ramna Park, Bangabandhu Sheikh Mujib Medical University (BSMMU),Bangladesh Institute of Research and Rehabilitation in Diabetes, Endocrine and Metabolic Disorders (BIRDEM)& Pan Pacific Hotel Sheraton, which is free from noise, pollution & politics. Holy Family Red Crescent Medical College Hospital is a multispeciality modern teaching hospital, well equipped with the latest lab facilities, to make your stay enriched, meaningful and memorable. Full-fledged Dental Unit with all the basic and clinical departments are functioning in the premises of the main campus. Its facilities are unmatched in qualification and number by any other private dental institutions in Bangladesh.
The IT department is helping the students and teachers to acquire latest scientific knowledge in medicine. Furnished hostels are maintained properly for safe and comfortable stay for the students. Healthy food outlets are available within the college campus: For financial requirements an automated bank has been established within the academic campus. In addition, a good number of clinical material and an impressive library with thousands of relevant medical books, journals, apart from local ones are also available. Lecture theaters are air-conditioned, the laboratories and museums are fully equipped.
We practice strict discipline to create pleasant and healthy atmosphere yet maintain a warm, participatory and friendly learning environment. Our graduates are eligible to appear in any licensing examinations like USMLE (USA), UKMLE/PLAB (UK), MCCEE (Canada), AMC (Australia) etc. and any international postgraduate examinations e.g. MRCP (UK), MRCPI (Ireland), FRCS (UK), MRCPCH (UK), MRCOG (UK) etc. It's also our pleasure and pride that for two consecutive years we have ensured eligibility of students of merits for the enrolment.
We firmly believe that to become an efficient doctor one has to acquire many qualities. As such sports, extracurricular, social and humanitarian activities are equally encouraged. We are going to have a well-prepared playground, open stage for drams, cultural events, canteen, doctors and students lounges, a new library and a fully equipped student dry skill lab and health club very soon with the fine touch of modern architecture. We have created a natural back stage and a concentric platform for open air cultural & festive programmes with all green aesthetic look.
At Holy Family Red Crescent Medical College, we believe in creating your tomorrow today. Come join with us in our strong will and desire for quality education and a bright future. We assure you that your efforts will not go in vain in the march towards creating the most efficient and prominent world class group of doctors.

Professor Dr. Md. Daulatuzzaman
Principal